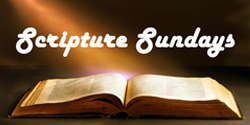 Hello, Everyone! Welcome to the first edition of Scripture Sundays. I am really excited to have you all participating in this new blog meme. I firmly believe that the Word of God has the power to change our lives.
As for today, let me share with you a verse from 1 Thessalonians 5:11 (ESV), it says "Therefore encourage one another and build one another up, just as you are doing." When I thought about Scripture Sundays, I don't see it as a simple blog meme just to update our blogs but also an opportunity to encourage one another. Life in this fast-paced world has been very hectic that most of us are left stressed out. Sharing God's Word and its power in our lives can become a testimony to others and can help build one another up.
How about you? What is your favorite Bible verse(s) that you're sharing with us today? Leave it at the linky below and don't forget to leave a comment as well. Again, thank you for joining Scripture Sundays!